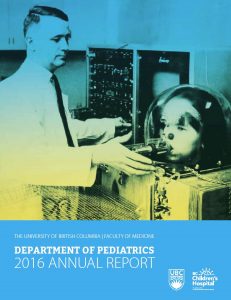 Department of Pediatrics 2016 Annual Report is now available.
Optimized for printing (76 mb)
Optimized for online viewing (7mb) 
Department of Pediatrics Triennial Annual Report 2013-2015, is now available in print and electronic form.
This issue highlights departmental achievements in medical education, scholarly programs, academic, clinical and research activities from 2013-2015.
To provide suggestions for future stories, updates, or add your name to the mailing list for our 2016 Annual Report, please email Pediatric Communications.
Please be advised, downloading takes approximately, 10 seconds.