The Department of Pediatrics 2017-18 Annual Report is now in production.
To provide suggestions for future stories, updates, or add your name to the mailing list for our Annual Reports, please email Pediatric Communications.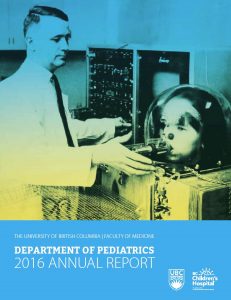 Department of Pediatrics 2016 Annual Report is now available.
In the spring of 2016, a box of historical photos destined for storage was discovered. What we found were priceless photos of physician and patient interactions, buildings, and equipment from the past – a veritable treasure trove of images that showed the evolution of BC Children's Hospital and the Department of Pediatrics over time.
In our 2013-15 Triennial Report we outlined a historical timeline of the Department and its leadership from its inception until 2015. From a humble house at 8264 Hudson Street with 16 beds to our current facility at 4480 Oak Street – a lot has changed.
Some of the photos that we have included in the 2016 Annual Report were brought to life with rich narratives provided by some of our senior pediatric faculty.
In the Fall of 2017, we moved some services into the Teck Acute Care Centre with 231 private patient rooms and eight floors of clinical space, adding an additional 59,400 square meters of space to grow into over the next 20 years.
A special thank you to the individuals that assisted us with captioning the photos – you are the gatekeepers of our rich past, and for this we thank you for helping us to remember where we come from and what we have to look forward to.
Optimized for online viewing (7mb) 
Department of Pediatrics Triennial Annual Report 2013-2015, is now available in print and electronic form.
This issue highlights departmental achievements in medical education, scholarly programs, academic, clinical and research activities from 2013-2015.
Please be advised, downloading takes approximately, 10 seconds.