UPDATED APRIL 27 2022



Dr. Tiffany Wong
"I am deeply grateful for the support the Hudson Scholars Awards Program has given me. It has allowed me freedom to come up with—and execute—many ideas. I have learned that there are multiple ways to achieve a goal; it is important to think outside the box when initial ideas for change are not working out as planned. The Hudson family has undoubtedly made a difference in the world of penicillin de-labeling in the last two years and will continue to make a difference as additional projects are rolled out." – Dr. Tiffany Wong, Allergy Clinic
Her project: Removing Penicillin Allergy Labels
PROJECT DESCRIPTION AND PROGRESS: An allergy to penicillin can be life-threatening; however, an incorrect allergy label on a patient's record can be detrimental to a child as alternative antibiotics may be less effective, costlier, and often cause undesirable side effects. Alarmingly, 90 per cent of patients with a penicillin allergy label on their medical record are deemed not to be allergic when assessed by an allergist. Dr. Tiffany Wong has set out to remove erroneous allergy labels at BC Children's.
After a several-month shutdown of clinical research at the beginning of the pandemic, recruitment has restarted. However, the number of participants remains low, likely due in in large part to the ongoing challenges of the pandemic. Dr. Wong has expanded the project from the CTU to include oncology patients and is currently working to add general surgery and orthopedic surgery patients. To date, all 11 patients in the study have been successfully de-labeled. These children may now receive penicillin medications at no increased risk.
In addition to the QI project, the Hudson Scholars Awards Program has allowed Dr. Wong time to accomplish many related tasks, including: developing a website on penicillinde-labeling resources for families and health care providers; organizing the development of a penicillin de-labeling teaching video for health care providers; and developing a mobile clinical risk assessment tool for patients with penicillin allergy labels.
Dr. Wong is also emerging as a QI leader. She developed an academic quality improvement document for the UBC Department of Pediatrics and is now co-lead of the BC Children's Pediatrics QI Network, along with Drs. Mia Remington and Sandesh Shivananda. In addition, Dr. Wong is now part of the faculty for the PHSA Physician Quality Improvement Program which all Hudson Scholars participate in as part of their QI education. MORE: https://bit.ly/3khbqPt and https://bit.ly/3kmjVZu
Dr. Benetta Chin
"Dr. Chin has been leading an important project in the Ledcor Children's Emergency department (ED) focused on the reduction of unnecessary tests and the treatment and care of children with bronchiolitis.
After completing all of the background work and assembling her QI team, baseline data collection began in November 2019 but was placed on temporary hold due to the pandemic in March 2020. An interesting outcome of the pandemic is that strict observation of hand hygiene and physical distancing has dramatically decreased the number of children presenting to the ED with bronchiolitis—an infectious disease caused by respiratory syncytial virus.
It has been a pleasure working with Benetta who has made the difficult decision to leave the program after one year. Benetta and her family will be moving to Hawaii where her partner will be pursuing an amazing career opportunity. We wish Benetta all the very best and we will be exploring options to continue the great work that she has been leading. " – Dr. Allison Eddy
Her project: Improving care for kids with bronchitis
PROJECT DESCRIPTION AND PROGRESS
Preliminary data in the emergency department shows there is a significant variation in terms of testing and treatment of bronchiolitis. Almost 40 per cent of infants y*ounger than 12 months old with a diagnosis of bronchiolitis are treated with bronchodilators and undergo rapid viral testing. Almost 30 per cent receive systemic steroids. This is well above the published achievable benchmarks of care that exist in literature for bronchiolitis. Specifically, they are 18.5 per cent for bronchodilator use, 6.4 per cent for steroid use and 0.6 per cent for respiratory viral testing. The project aims to reduce the proportion of patients with bronchiolitis in the ED and the CTU receiving bronchodilators.
The project was accepted into the Provincial Health Services Authority (PHSA) Physician Quality Improvement (PQI) Program. This program was particularly beneficial to Dr. Chin and her project. She attended monthly PQI workshops which led to developing a project core team in partnership with the PQI Program staff, and ultimately refining the project goals and objectives as well as applying proper QI methodology in developing the project plan. The education and mentorship through the BC Clinician's Quality Academy also helped to refine the project proposal.
Other milestones to date include:
acceptance by the ED's Quality of Care Committee;
establishing a working group within the ED including physicians, nurses, a respiratory therapist, and a pharmacist;
developing a baseline and prospective data collection plan;
identifying change ideas with the ED working group that included an evidenced-based bronchiolitis patient care pathway/guideline;
developing a partnership with the inpatient CTU team to create a parallel patient care pathway/ guideline and order set for the inpatient unit to promote continuity of evidence-based care;
and collecting baseline data starting in November of 2019, although it has temporarily stopped due to the COVID-19 pandemic.
Dr. James Lee
"Dr. Lee has made excellent progress on his project on Virtual Health in pediatric neurology that was immediately applicable to our pandemic response. Dr. Lee became a Virtual Health champion and advisor for physicians with no prior experience providing medical care virtually. A new challenge that arose was how to adapt pediatric resident training to a virtual platform and Dr. Lee took a leadership role in partnering with the pediatric residency program directors. In recognition of his leadership and to continue this important work, Dr. Lee was awarded a Strategic Investment Fund grant from the UBC Faculty of Medicine for the Virtual Health Pediatric Residency Engagement Initiative." – Dr. Allison Eddy
His project: Providing neurology care to kids wherever they are
PROJECT DESCRIPTION AND PROGRESS
Virtual Health visits, where patients utilize video technology to meet virtually with a subspecialist at BC Children's, have been increasing in recent years. As nearly a third of patients seen by the neurology clinic live outside metro Vancouver, this allows many families to greatly reduce travel time and costs, as well as stay closer to their home communities and support networks.
In 2019, Dr. Lee increased the percentage of neurology patients seen via Virtual Health from 3-4 per cent of total neurology visits to 5-7 per cent through two major interventions which began in March: identifying patients who could be transitioned from in-person to virtual visits, and by providing reminders on patient charts at the time of an in-person visit to inquire if a virtual visit could be considered. In late 2019, Dr. Lee's team designed a pilot project in which patients can remain at home while using a personal device. Traditional Virtual Health visits are typically conducted at health care facilities in or near the patient's home community. It was anticipated that this new format would offer further advantages over traditional Virtual Health visits. Prior to the COVID-19 crisis, 20 of these visits had been completed using Skype for Business, with plans to study patient satisfaction as well as physician utilization.
The pandemic had a profound impact on the project, allowing it to grow and adapt. There was a rapid and large-scale adoption of this new Virtual Health model, not just in pediatric neurology but across all subspecialties. During this time, all neurology visits were transitioned to the new format where possible in order to maintain physical distancing. Neurology visits effectively transitioned to a near-total virtual model of care. In April 2020, the clinic completed 64 per cent of visits by Virtual Health using mostly Skype for Business or Zoom, and had only 4 per cent in-person visits. The total number of visits to neurology did not decrease, indicating the technology helped avoid cancellations, and ostensibly reduce wait times. Surveys found that physicians were very satisfied with the ability to take the patient's history and to form an overall assessment. Importantly, patients did not typically need additional in-person visits.
Overall, the program was able to demonstrate:
The ability to effectively and rapidly switch to the more convenient Virtual Health format, which was aided by the team's previous experience with the traditional Virtual Health, while maintaining high patient volumes.
Virtual Health is an effective means to deliver care, even on a large scale, and not just for patients who live far from the hospital.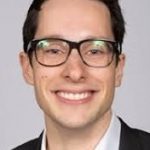 Dr. Tom McLaughlin
"Dr. McLaughlin's pilot study, within just a few months, made an important and perhaps unexpected finding; the most common reason for unnecessary prolonged hospital stays at BC Children's is long-term intravenous (IV) therapy in medically stable patients, due to our inability to provide this therapy at home. He has consulted with programs in other provinces and begun conversations with hospital leadership to create a home IV therapy program. Virtual Health and BC Children's CTU physicians would play a key role in providing real-time urgent care advice to physicians across BC who are managing sick children. Dr. McLaughlin has recently joined an expert physician group in transport and emergency care to submit a research proposal entitled Enhancing Pediatric Emergency and Critical Care through Real-time Virtual Support." – Dr. Allison Eddy
His project: Reducing unnecessary inpatient stays
PROJECT DESCRIPTION AND PROGRESS
Since starting his project in September 2019, Dr. McLaughlin focused on the scope and definition of the problem: unnecessarily-prolonged hospital admissions that can result in increased costs, risk of infection and medical error, or fear and discomfort on the part of patients and caregivers. This research included auditing all discharges form the CTU over a four-month period, interviewing medical teams, and analyzing the causes of unnecessary inpatient stays.
Surprisingly, it was learned that a large number of children are hospitalized for IV therapy. This accounted for about 10 per cent of patient days in the hospital.
This revelation led to an additional goal. British Columbia does not have a comprehensive pediatric home IV antibiotic therapy program, and development of a comprehensive program could lead to significant savings in inpatient spending, improve quality of care, and contribute to BC Children's mission of leading province-wide solutions to children's health care challenges.
Dr. McLaughlin has developed pilot projects for outpatient IV therapy and a rapid pediatric inpatient unit. It is hoped the pilot projects will be implemented in 2020 with analysis of impacts going until 2021. In designing solutions, it became clear that Virtual Health might play a role, since so many patients come from far away geographically. The demand for a wider availability of virtual solutions with the COVID-19 pandemic, and the urgent need to keep patients out of acute care beds, have added an element of urgency to the project.