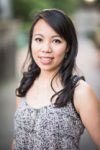 Dr. Alison Lee is this year's recipient for the 2017 Outstanding Achievement by a Resident from BC Children's Hospital Research Institute.
"It is wonderful that your hard work, dedication, and research productivity is being recognized. We are all very proud of your achievement!" –  Dr. Lori Tucker, Director,  UBC Pediatric Resident Research Program
Congratulations Dr. Lee!